I have been totally enthralled with Downton Abbey via Masterpiece Classic on PBS. Evidently a good number of Americans have as well. Bravo! It's about damn time.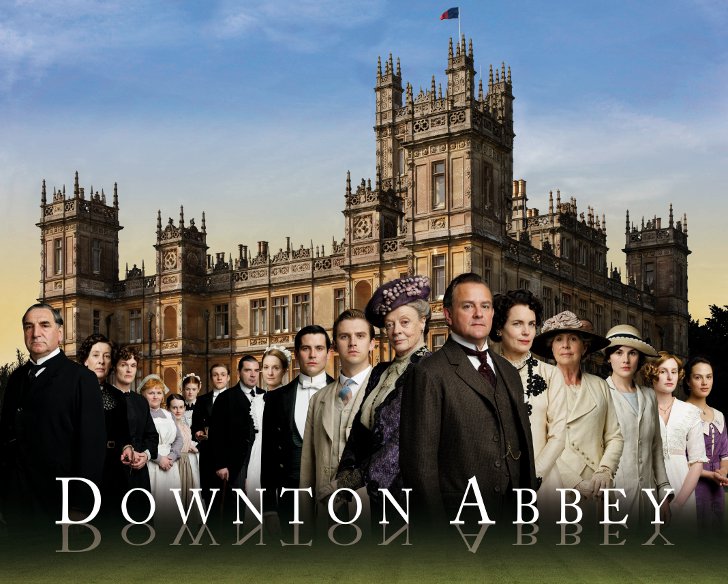 Does this mean there's hope for American taste to finally evolve beyond Survivor and those insipid Kardashians? Ugh. *shudder* As the Beach Boys once sang, wouldn't it be nice? Grand historical sagas once were the backbone of A&E during the days when it actually stood for Arts & Entertainment. Remember when Pride & Prejudice with Colin Firth first aired? It was all anyone talked about. A&E had an impressive list of absorbing projects; here are but a few:
Pride and Prejudice (1995) Emma (1996) Jane Eyre (1997)
Tess of the D'Urberviles
(1998)
Vanity Fair
(1998)
The Lady in Question
(1999)
Murder in a Small Town
(1999)
P.T. Barnum
(1999)
The Scarlet Pimpernel
(1999)
The Great Gatsby
(2000)
Lorna Doone
(2000)
Thin Air
(2000)
The Lost Battalion
(2001)
The Lost World
(2001)
Victoria & Albert
(2001)
Napoléon
(2002)
Shackleton
(2002)
Benedict Arnold: A Question of Honor
(2003)
*
No, dear friends, I did not forget Hornblower. As far as I'm concerned, that eight-movie series was A&E's crowning achievement. Talk about faithful adaptation: the producer and director worked so hard to capture all the adventure in C.S. Forester's novels, they barely got through the third book, Hornblower and the Hotspur. Most faithful readers were truly looking forward to how they would film "The Meaty Three": Beat to Quarters, Ship of the Line, and Flying Colours. It's a damn shame we will never see those done, not by that production company and not with those actors. A&E's abandonment of the Arts in 2004 and devotion to reality crap like Dog the Bounty Hunter and Gene Simmons Family Jewels deprived ITV of a partner to share the costs, and let's face it, reality TV is all about cheap production.
Paul Copley in Downton Abbey
But Downton Abbey's popularity is a lovely glimmer of hope that people can still appreciate a well-written, well-acted and lavishly produced historical drama. And bless his heart, Paul Copley --who portrayed Matthews in all the Hornblower films--is a delight as Mr. Mason, poor William's father. He is a great character actor, unappreciated most of the time, but that's what is so wonderful about British productions: they LOVE character actors and people who look real. Dame Maggie Smith is a perfect example. I just adore her as the Dowager Duchess, all prim and acerbic. No one can throw out a one-line put down dripping with sarcasm the way Maggie Smith can. I can hardly wait for Season Three.
So what are your favorite period dramas? Is there a novel series you'd like to see brought to life on TV?