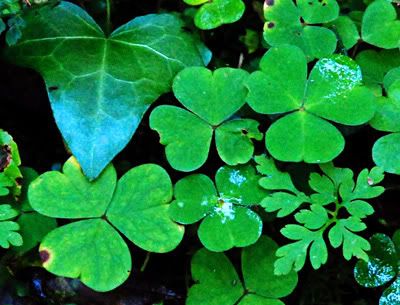 Ah, 'tis St. Patrick's Day, a day of smiling eyes and leprechauns, and lots o'blarney. There are many gifted cultures out there, but the Irish are right up at the top of the list of those who work magic with words. Every child (and naughty adults!) know about Limericks, lyrical poetry so fun to compose and recite, named for the town in mid-West Ireland in Country Limerick.
Then there are the toasts and sayings. Her's a
blog of toasts
to tickle your fancy...
And of course, a few witty sayings:
May your home always be too small to hold all your friends.
There are many good reasons for drinking,
One has just entered my head,
If a man doesn't drink when he's living,
How the hell can he drink when he's dead?
May you have warm words on a cold evening,
a full moon on a dark night,
and the road downhill all the way to your door.


"Blue sky thinking" is a distinctive Celtic trait, especially evident in the Irish and the Welsh, and often credited for their tendency to jump headfirst into new endeavors without much thought about possible consequences. 'Tis the adventure of the journey that matters...


So here's to the Irish today! Sláinte!